Lonyork Desktop Storage Organizer with Tissue box

STYLISH DESIGN

MANUAL ASSEMBLY

SOLID CONSTRUCTION

MULTI-SCENE APPLICATION

Accessories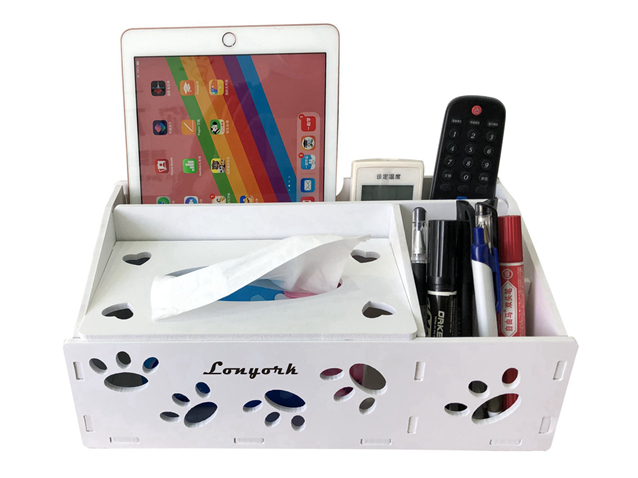 STYLISH DESIGN: A stylish and practical way to store your desktop. Pens, iphones, ipads, notebooks and other items can be placed in compartments of different sizes. The facial tissues cover holder makes it easy and convenient to take the tissues.
MANUAL ASSEMBLY: You can enjoy the success of doing it yourself by assembling this storage organizer. It is definitely a good idea to assemble a storage organizer with your children together for their bedrooms. The tissue box can be fixed on the left or right side of the storage organizer according to your preference.
SOLID CONSTRUCTION: 0.2 inch thick board, smooth and burr-free surface, no smell, easy to clean. The embedded assembly structure is firmer and durable.
MULTI-SCENE APPLICATION: Suitable for indoor occasions such as office, living room, bedroom, study room, hotel, etc. Say goodbye to messy table and make your table attractive.
DIMENSION: Tissues box Length=8.3 in, Width=4.7 in, Heigth=3.7 in
Please note that your tissues should be smaller than this dimension to put it in. It's good for tissues which are without hard packing box. If the size doesn't fit, you may remove the tissues from the packing box and put the tissues in the holder.
Related Products